With weather drops below 5°C, the warm times have passed, and it's time for the magical winter. Not everyone fancies winter because of its cold cons; however, it is the best time for skiing on the mountain, putting Christmas lights up, rolling in the snow, drinking some Glühwein, and enjoying corals and little things at a Christmas market! Therefore we have made a list of Europe's coziest and heart-warming Christmas markets.
Germany
Berlin
Berlin is a great city to visit during the holidays if you're looking for a more modern take on tradition. The city center is festooned with around 80 Christmas markets, so there's sure to be one that appeals to everyone. The market at Gendarmenmarkt is one of the most popular and traditional, with plenty of stalls selling wood-carved Nativity scenes, homemade ornaments, and delicious German food. Other markets worth checking out include Weihnachtszauber at Gendarmenmarkt square and Winter World at Potsdamer Platz. Winter World on Potsdamer Platz is less about shopping and more about winter sports, with tobogganing, curling, and an ice-skating rink with free lessons for kids.
Our favorite hotels in Berlin:
Gorki Apartments
,
Orania.Berlin
,
Honigmond Boutique Hotel
,
Lulu Guldsmeden
,
Provocateur Berlin
Cologne
Cologne is a great choice for those who fancy traditional German Christmas markets. Between November and January, the city comes alive with the holidays' sights, smells, and sounds. You can buy souvenir mugs to fill with Glühwein, browse handmade gifts, and try some Christmasy German food. There are seven different markets to explore, each with its unique atmosphere. You can also go ice skating beneath the city's Gothic cathedral or listen to live music in one of the parks.
Our favorite hotels in Cologne:
Excelsior Hotel Ernst am Dom
,
25hours Hotel The Circle
,
Hyatt Regency Köln
Austria
Salzburg
Salzburg, Austria, s the birthplace of Mozart and one of Europe's top destinations for Christmas markets. The markets open at the end of November and offer delicacies such as fried sausages and goulash soup, as well as local crafts such as Christmas ornaments and wood carvings.
Our favorite hotels in Salzburg:
Hotel Goldener Hirsch, A Luxury Collection Hotel, Salzburg
,

Hotel Sacher Salzburg
,
numa l Mozart
,
artHotel Blaue Gans
,
Hotel Schloss Mönchstein
Vienna
The Christmas markets in Vienna are some of the coolest in the world. There are several to choose from, each with its unique atmosphere. The main market is in front of the Rathaus and features a winding ice rink, carol concerts, and plenty of food and drink options. The market at Schönbrunn Palace is smaller and more intimate, with artisans selling handmade goods perfect for Christmas gifts. Don't forget to try the mulled wine, rum punch, and traditional Austrian foods!
Our favorite hotels in Vienna:
Rosewood Vienna
,
Hotel Josefine
,
Hotel MOTTO
,
Hotel Sacher Wien
,

Max Brown 7th District
Czech Republic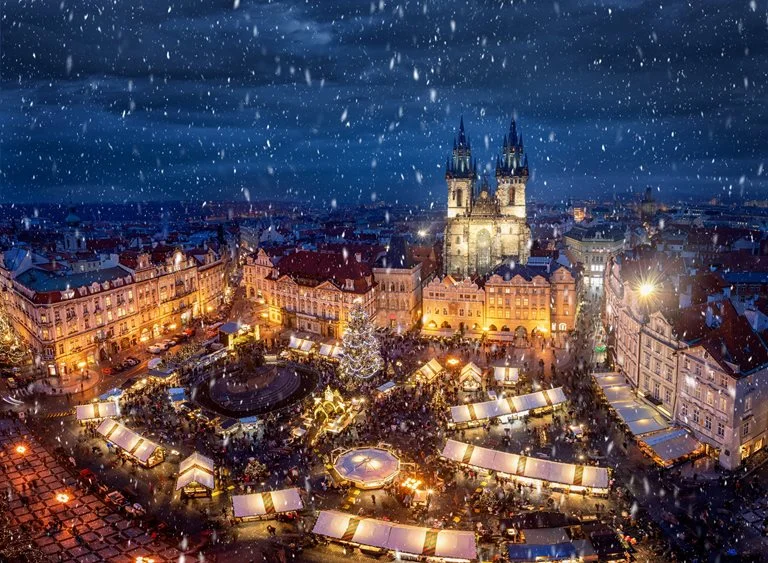 Prague
Prague is perfect for a festive getaway, with its charming Old Town Square, twin spires of Our Lady Before Tyn, and famous astronomical clock. Mulled wine is swapped for grog here - rum, water, lemon, and sugar. Believe us, the food on the market is to be noticed. Try the grilled sausages, fresh pancakes, garlic-and-cheese flatbread, and wash it all down with a glug of svorak, the local, citrussy take on mulled wine. During Christmas time, the Old Town Square is also home to sheep, goats, and a donkey waiting patiently for attention from tourists.
Our favorite hotels in Prague:
BoHo Prague Hotel - Small Luxury Hotels
,
Hotel Republika & Suites
,

The Grand Mark Prague - The Leading Hotels of the World
,
Mama Shelter Prague
,
The Mozart Prague - Preferred Hotels & Resorts
Bohemian-Moravian Highlands
The Christmas markets in
Český Krumlov
and
České Budějovice
are one of the most atmospheric markets in Europe. The city center square is home to a cavalcade of bustling market stalls selling wooden toys, Christmas decorations, and spicy mulled wine. There will be various musical and theatrical performances at the market, bagpipe caroling, folk dancing, and singing. The large market offers dozens of wooden stalls with different Christmas products, gifts, refreshments, punches of various scents and flavors, mead, trdelník (sweet pastry cooked over a fire), and other popular Christmas drinks and delicacies. There will also be stalls with traditional crafts and other goods.
Our favorite hotels in
Český Krumlov
:
Monastery Garden Bistro & Rooms
,
Bellevue Hotel Český Krumlov
,
Pension MONO - Adults Only
France
Strasbourg
Strasbourg is known as the "Capital of Christmas," and for a good reason - the city is transformed into a Christmas wonderland from late November to early January, with twinkling lights, cheerful decor, and over 300 chalet-style stalls at the Strasbourg Christmas Market. The market is located in the city center, which is compact and easy to walk around. There is also an extensive collection of stalls at Place Kleber, where you'll find the centerpiece Christmas tree, and around the Strasbourg Cathedral. You can't go wrong with a Tarte flambee or a glass of mulled wine from one of the many food stalls, and Strasbourg is easily reachable by high-speed train from Paris, Frankfurt, or Stuttgart airports.
Our favorite hotels in Strasbourg:
Hotel Cour du Corbeau Strasbourg - MGallery
,
Hôtel LÉONOR the place to live
,
Le Moon
,
BOMA easy living hotel
,
Hotel & Spa REGENT PETITE FRANCE
Sweden
Gothenburg
Gothenburg, Sweden, is a great place to spend Christmas. The city has three Christmas markets, Kronhuset, Haga, and Liseberg. Liseberg is a theme park decorated with five million Christmas lights. The park also has 80 market stalls, roller coaster rides, carousels, Santa's workshop, and an ice skating show. The best foods to try at the markets include Swedish glogg, a sweet mulled wine, and Pepparkaka, a gingersnap biscuit. There is also a four-course Swedish Christmas buffet dinner available at Liseberg.
Our favorite hotels in Gothenburg:
Hotel Eggers
,
Dorsia Hotel & Restaurant
,
Hotel Flora
,
Hotel Pigalle
Stockholm
The Skansen Christmas Market in Stockholm is a must-see for anyone visiting the city during the holidays. The market features old-style wooden huts replicating a traditional Swedish village, complete with horse-drawn carriages and folk music. Visitors can purchase Christmas cards, decorations, and smoked reindeer and elk meat wraps. Head to Gamla Stan in Stockholm for a festive and charming Christmas feel. You'll be greeted by the smell of gingerbread and can find snow-dusted wooden huts selling candles, winter woollies, and gifts. Be sure to grab a mug of glögg and a gingerbread cookie as you wander around and enjoy the carol singers and giant Christmas tree.
Our favorite hotels in Stockholm:
Ett Hem
,
The Sparrow Hotel
,
NOFO Hotel, WorldHotels Crafted
,
Lydmar Hotel
,
Grand Hôtel Stockholm